News
Year 11 Netball Success Vs. Oak's Park
Posted on: 25/11/2019
Mayfield's Year 11 Netball team had a great start to this season with a win against Oak's Park School on Thursday 21st November 2019. The game got off to a good start with some great shooting by Niran and Shanique. As the second and third quarter progressed Mayfield's defence had to work hard to keep the opposition's goals away.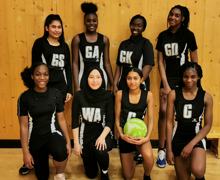 The final quarter saw Mayfield's best play of the game with the most amount of goals scored. Mayfield beat Oak's Park School 28-3.
Player of the match was Shanique and Coach's player was Khatira.
Well done, ladies!