Design and Technology
---
Our Ethos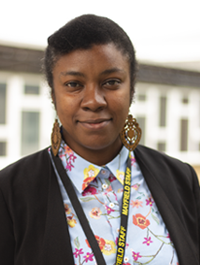 In Design and Technology students explore design ideas and develop their creative potential across a range of material areas; including Food, Textiles, Graphics Product, Resistant Materials and Product Design. We encourage independent thinking, communication and problem solving – key skills which will be of benefit for the rest of their lives. This is a very "hands on" subject with lots of practical work, where students can gain satisfaction from realising designs they have created. Students regularly comment on the enjoyment they had in a lesson. In this subject students build a large skill and knowledge base from working with a wide range of materials, tools and equipment. We place emphasis on the links to potential careers, include business and manufacturing possibilities.
The Design and Technology department is also keen in promoting STEM (Science, Technology, Engineering and Mathematics) subjects at Mayfield School.
Miss J. Sandy
Teacher-Student Relationship
As a faculty, the Design and Technology teachers aim to build positive relationships between themselves and their students. We understand that each and every student have different strategies for learning and achieving their goals. Some students will learn quickly with little help, whereas others may require extra assistance and more in-depth explanations.
The communication between the student and the teacher serves as a connection between the two, which provides a better atmosphere for a classroom environment. A significant body of research indicates that academic achievement and student behaviour are influenced by the quality of the Teacher-Student relationship. The more the teacher connects or communicates with students, the more likely they will be able to help students learn at a high level and accomplish quickly.
Home Learning
In Design & Technology, it is expected that home learning is to form an integral part of the course of study and schemes of work. In addition students have the opportunity to complete outstanding work in Design & Technology after school; where they can get support from a teacher.
Our Expectation:
All students will be expected to complete meaningful home learning tasks at each Key Stage. The faculty recognises the value and importance of the role of home learning as a means of;
Developing the students' knowledge and understanding
Developing students' subject specific key skills in order to prepare them for further studies in Design & Technology
Supporting keys skills of literacy, numeracy and communication where appropriate
Supporting learning in subsequent lessons
Challenging and stretching students through curiosity
Developing independent learning skills
Providing opportunities of feedback from adults in order to evaluate success and quality of their work
Implementation:
The faculty aims to support expectations by:
Setting meaningful home learning tasks in accordance with the whole school home learning policy
Linking home learning to work covered in class (connect the learning)
Marking home learning promptly and with constructive feedback
Providing students with an opportunity to 'FIXIT' following feedback
Rewarding effort and quality of home learning via the schools reward policy
Responding to those students whose work is incomplete and/or fails to meet the required standard through the use of appropriate reprimands
At KS4 and KS5 by offering meaningful interim assessment opportunities and feedback designed to assist students to develop and improve their work
Extra-Curricular Activites
The Design and Technology faculty at Mayfield School recognises the importance Extra-Curricular activities has on extending and consolidating learning. The Design and Technology department offers after school clubs for different students of different abilities and gives Design and Technology Key Stage 4 and Key stage 5 students the opportunity to use dedicated after school sessions to make sustained progress in their learning.