Abda Kazemi
Abda Kazemi fled war-torn Afghanistan with her family at the age of three. She was the first student at her high school to attend a U.S. institution and first generation in her family to attend university. She comes from a family of seven children and was raised in east London. She attended Mayfield School where she studied law, history, economics, and theatre.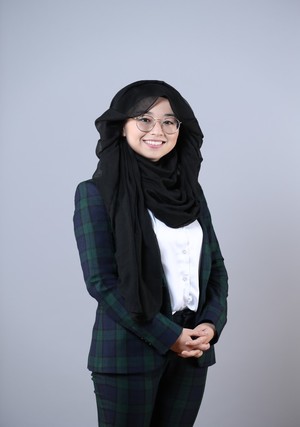 As an active member of her community and Head Girl, she logged over 450 hours of community volunteering. Abda has represented 28,000 young people in the London Borough of Redbridge for UK Youth Parliament and invited speaker John Bercow MP to her school to inspire young people into politics. Locally, she was the chairman of the Redbridge Youth Council. Besides her academic pursuits, she enjoys sports leadership and has acted as a Youth Sport Trust young ambassador, which involved being on the national steering group and speaking at a leadership conference alongside Lord Sebastian Coe.
Before her acceptance to university, she was selected as one of 150 students to be part of the Sutton Trust U.S. Programme, a social mobility organisation that provides a range of activities for state school pupils to make the right decisions about American higher education. Being part of the programme made her ambition of studying abroad possible.
Abda is a final-year student at NYU Abu Dhabi majoring in Social Research and Public Policy (SRPP) with a minor in Arabic language. During her undergraduate experience, she took advantage of the American liberal arts education by exploring courses in theatre, graphic design, computer science, economics and political science. She spent her semester abroad with the Middlebury Program in Jordan, taking all her classes in Arabic and wrote a research paper in the host language on counter-extremism efforts in Jordan.
During her university experience, she travelled to Abu Dhabi (UAE), Kathmandu (Nepal), Washington D.C (USA), Entebbe (Uganda), Kerala (India), New York City (USA), Shanghai (China), Al-Ain (UAE), Amman (Jordan) and Cape Town (South Africa) for her courses as part of her undergraduate degree. During her leisure time, she has travelled to over 15 countries on five different continents with her peers from the NYU global network.
Her graduating class consists of 263 students representing 79 countries and speaking more than 65 languages, in a student population of 1250 students from more than 115 countries who speak over 115 languages. The diversity at NYU Abu Dhabi has shaped her thinking and provided her with a global perspective.
In the shortcoming future, she has ambitions of pursuing her Ph.D. in Sociology focusing on migration in the United Kingdom.
Her mother tongue is Dari; she has native proficiency in English and professional proficiency in Arabic.
Click here for the NYU Abu Dhabi – Commencement Speech